Kitchen Cabinet Painters in Wellesley
Your Trusted Local Painting Company
Having your kitchen cabinets professionally painted can dramatically improve the look and feel of your kitchen without the high price and time commitment associated with a complete remodel. You can update dark brown or plain woodgrain cabinets with a solid color like white, off-white, blue, green or gray to achieve a modern aesthetic. We can also identify the ideal pigment to complement an existing color scheme of coordinated furniture, appliances, wall or wallpaper, artwork and other features of your home. When local homeowners need kitchen cabinet painters in Wellesley and neighboring communities, they trust our team at Adelfia Painting to deliver stunning results with exceptional value and customer service.
Our reputation is built, in part, on the positive feedback we regularly receive from our customers. Maggie S. shares what made us the ideal kitchen cabinet painters in Wellesley for her in a 5-Star Google Review, "Peter and his team were absolutely amazing. He was extremely responsive and communicated each evening what the plan was for the next day and when they would arrive. I've never worked with a tradesperson who communicated as well as he did, something I really valued. They were always on time, which I greatly appreciated. They were so neat and covered everything with drop cloths and cleaned up at the end of each day so we could use our kitchen at night. I couldn't recommend them more!"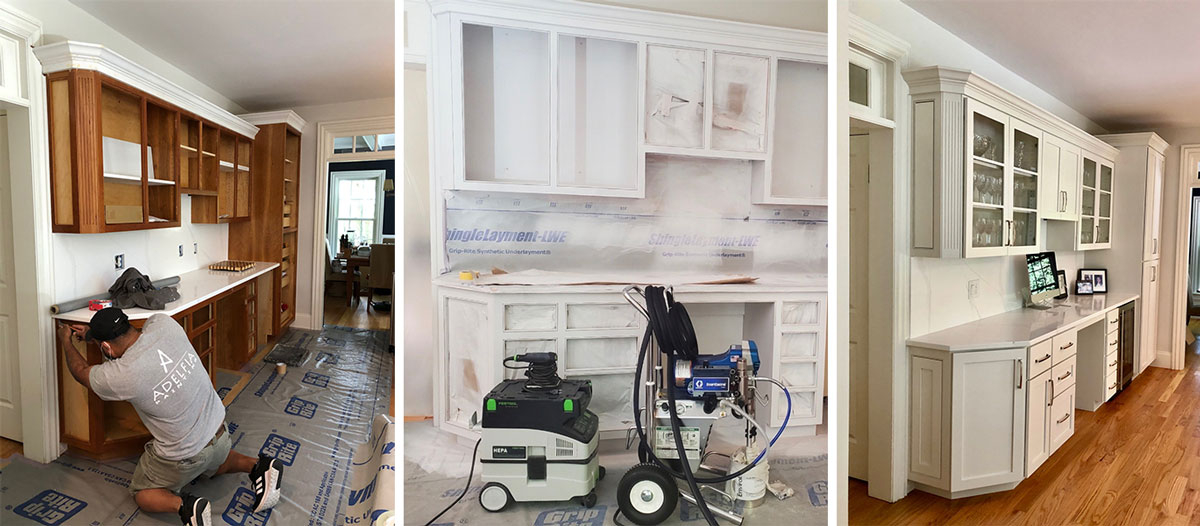 Another reviewer, Sally B., explains why she relies on our team for all of her painting projects, "We have always been impressed with the expert quality of their work, the care of clean up, their perfectionism and professionalism. Peter Vasiliadis and his crew are pleasures to deal with, on time, on budget. What is extra special – the men who do the work exude happiness in their tasks. They are polite, cheerful and joyful. Peter has an expert's eye for what is needed and what is not. We will use them again for sure."
At Adelfia painting, our unwavering commitment to customer satisfaction is interwoven with every aspect of the services we provide. Before making a single brushstroke, we carefully cover your kitchen cabinet components like hinges, knobs and windows as well as all other furnishing that are to remain untreated with plastic and non-marking tape. Our kitchen cabinet painters in Wellesley apply the highest quality paints using best practice techniques to ensure the longevity of your project. Our crew exhibit the upmost professionalism by keeping consistent schedules and thoroughly cleaning work areas so that you can use your kitchen in-between shifts.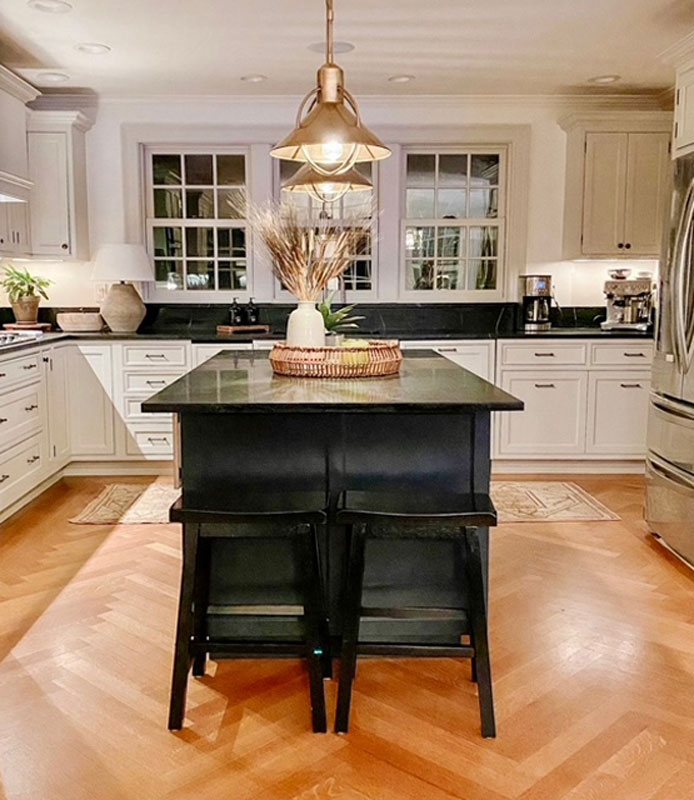 Press play on the video to view one of our recently painted kitchen projects.