Kitchen Cabinet Painters in Newton
Your Trusted Local Painting Company
Are you are satisfied with the functionality of your kitchen but would like to enhance its aesthetic appeal? By having your kitchen cabinets professionally painted, you can achieve exactly that. You can create a modern look by updating dark brown or natural wood grain cabinets with a smooth and even solid color finish of white, off-white, blue, green or gray. If you've already coordinated your furniture, walls or wallpaper, artwork and other details of your home to fit a color scheme, we can collaborate with you to pinpoint a pigment that complements it. Our attention to detail and unwavering commitment to customer satisfaction has helped position the Adelfia Painting team as the go-to kitchen cabinet painters in Newton and throughout the region.
We take great pride in positive feedback from local homeowners who have relied on us when they needed kitchen cabinet painters in Newton. In this glowing Yelp review, Cary B. writes, "They're great!  Highly recommended! Courteous, respectful, pleasant and exceptionally good painters. Top notch! Well done Peter and crew!"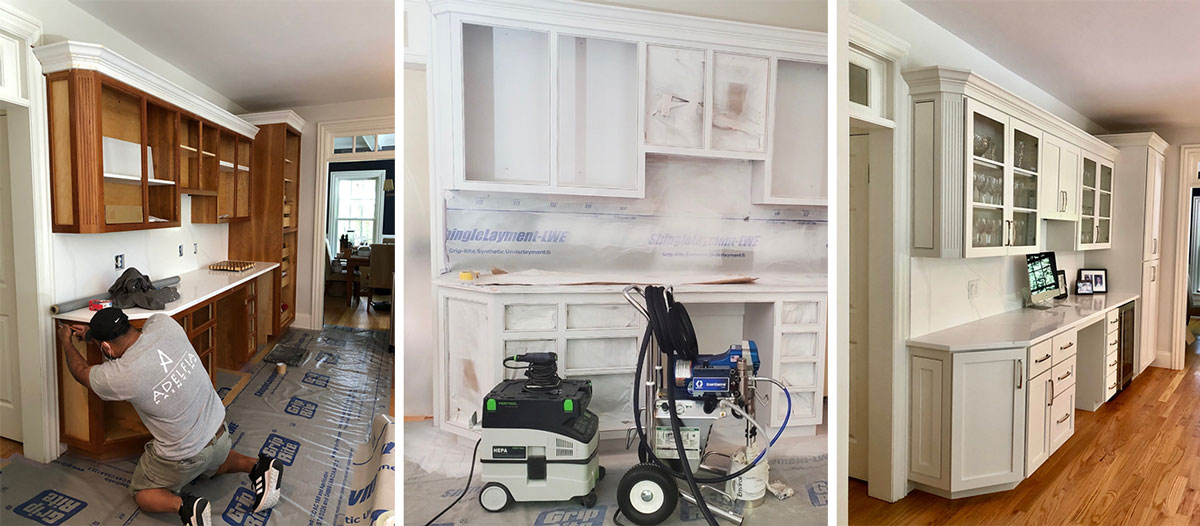 Maggie S. shares her experience in a 5-star Google review, "Peter and his team were absolutely amazing. He was extremely responsive and communicated each evening what the plan was for the next day and when they would arrive. I've never worked with a tradesperson who communicated as well as he did, something I really valued. They were always on time, which I greatly appreciated. They were so neat and covered everything with drop cloths and cleaned up at the end of each day so we could use our kitchen at night. I couldn't recommend them more!"
When you put our kitchen cabinet painters in Newton to work on your project, you can expect an experience as pleasant as the finished result. We take great care to protect your cabinet's hinges, handles and other components as well as appliances, faucets and all other furnishing with plastic covering and non-marking tape before a single brushstroke is made. This attention to detail creates the crisp lines that are a hallmark of a quality craftsmanship and ensures all kitchen elements will maintain their performance characteristics.  Members of our crew respect your space and time by keeping regular schedules and tidy workspaces. We only apply premium paint using best practice techniques so that you can enjoy the new look of your kitchen for years to come.
Press play on the video to view one of our recently painted kitchen projects.
Getting A Quote is Easy. Simply Fill Out the Form Below.